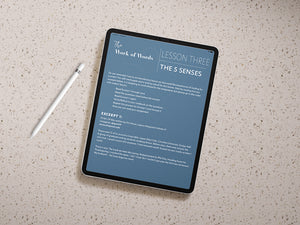 THE WORK OF WORDS LESSON THREE
The 5 Senses
The brilliant author and poet Mary Oliver reminds us to "Pay attention. Be astonished. Tell about it."Our senses play a large role in inviting the reader to our story, and in Lesson 3, we explore all five senses and apply them to a piece of writing.
Download Lesson PDF
The Measure of Success
Bonus Video
Join the editor-in-chief of Legacy Magazine Abi Ray, Legacy's Marketing Director Jessica Fountain, and your Work of Words course creator and guide Lindsay Swoboda as they unpack what Measuring Success in a Creative Life means to them.
"
Help the reader feel like they are with you on your journey by drawing them in with sensory details. What do you want the reader to experience from this piece of your writing?

"