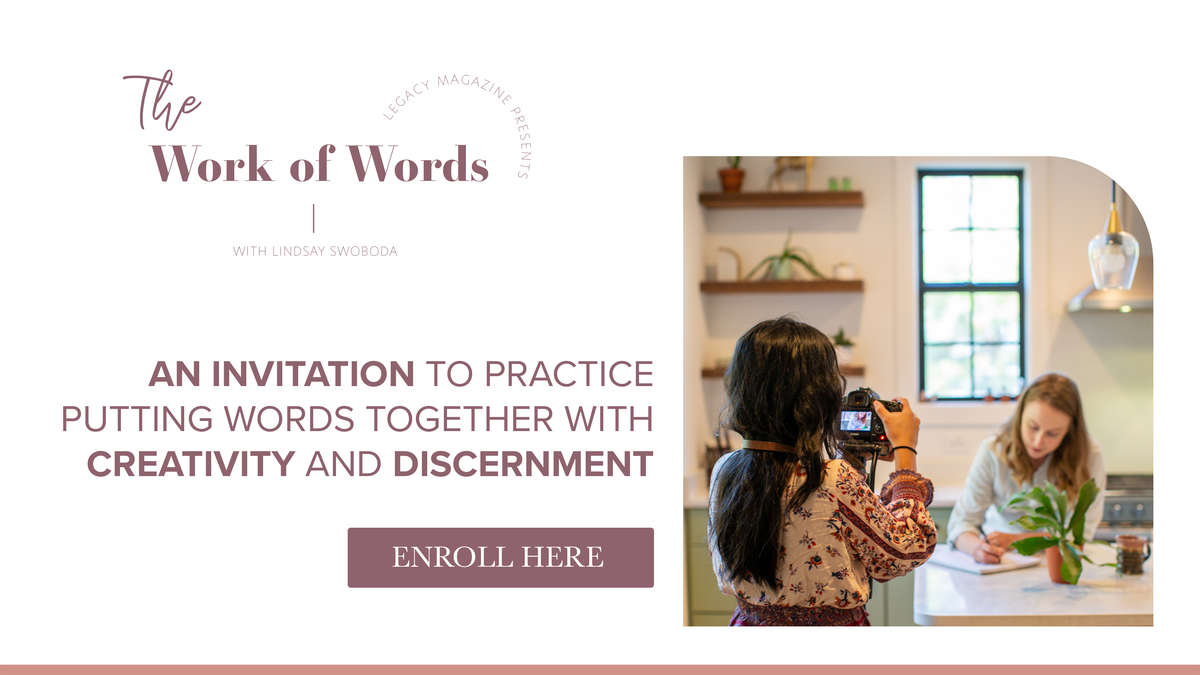 THE WORK OF WORDS WRITING COURSE
The Work of Words is a 6-week writing course (8-weeks total for final essay & celebration virtual meeting) for those within and supporting the service community.

You will develop your own personal narrative, primarily through creative nonfiction form. Each lesson will include writing exercises, detailed reading examples, and audio recordings (in case you're on the go).

You'll be given weekly, generous feedback on your essays while strengthening connections with fellow creatives.

The writing workshop will open for enrollment in the fall 2022. To be the first to know the session dates, receive a first look at the course, hear from alumni, and receive a special bonus discount, be sure to sign up below to join our waitlist.
JOIN OUR WAITLIST HERE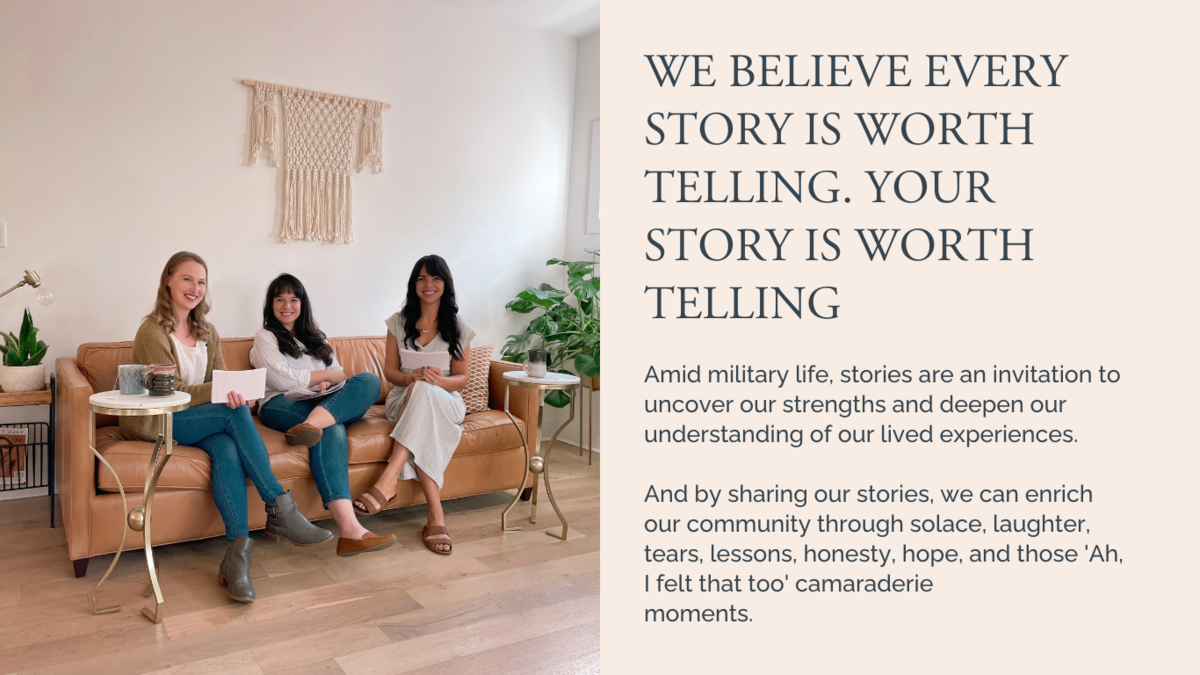 Everything You Need to Know About The Course
The Work of Words is a 6-week course with two weeks for your final essay and zoom celebration.

Your lessons are delivered directly to your email inbox. This course is about creating your own writing pace and nourishing your creativity. Therefore, we intentionally will be off social media and a homepage. You'll receive access to a dashboard at the very end of the course.

Every week you'll submit a writing assignment into a designated Google Drive Folder (600-1200 words that varies according to the lesson). The word count for each assignment will help structure & prepare you for submitting for publication if that is your goal.

Each week, you'll receive generous feedback on your writing by fellow creatives and the instructor; this will ultimately strengthen your storytelling.

Dates: Fall 2022

Cost: $347 Regular Price (Payment Options are Available)

Number of Spots Available: Only 20 Spots Maximum

Here is a detailed breakdown of Weekly Lessons:

WELCOME KIT:
Welcome to The Work of Words email and video
Course Syllabus
Creating Space for Your Writing Audio to accompany The 7 Practices to Nourish Your Writing PDF
Providing Generous Feedback Audio

LESSON ONE:
You Are Here - PDF & Audio
Basics of Creative Nonfiction Bonus Audio Lesson

LESSON TWO:
Show, Don't Tell - PDF & Audio

LESSON THREE:
The Five Senses - PDF & Audio
Measuring Success Bonus Video & Measuring Success Reflection PDF
Midway Check-in + Q&A Zoom Chat

LESSON FOUR:
Look Who's Talking - PDF & Audio
Unpacking Permission and Boundaries Bonus Audio Lesson & PDF

LESSON FIVE AND SIX:
Shift Perspective - PDF & Audio
Go Small - PDF & Audio

FINAL TWO WEEKS OF COURSE:
Submit Final Assignment
Final Zoom Celebration
Pitching for Publication & Sharing on Social Media Bonus Video Lesson
Release of The Work of Words Dashboard for lifetime access of the course
JOIN THE WAITLIST HERE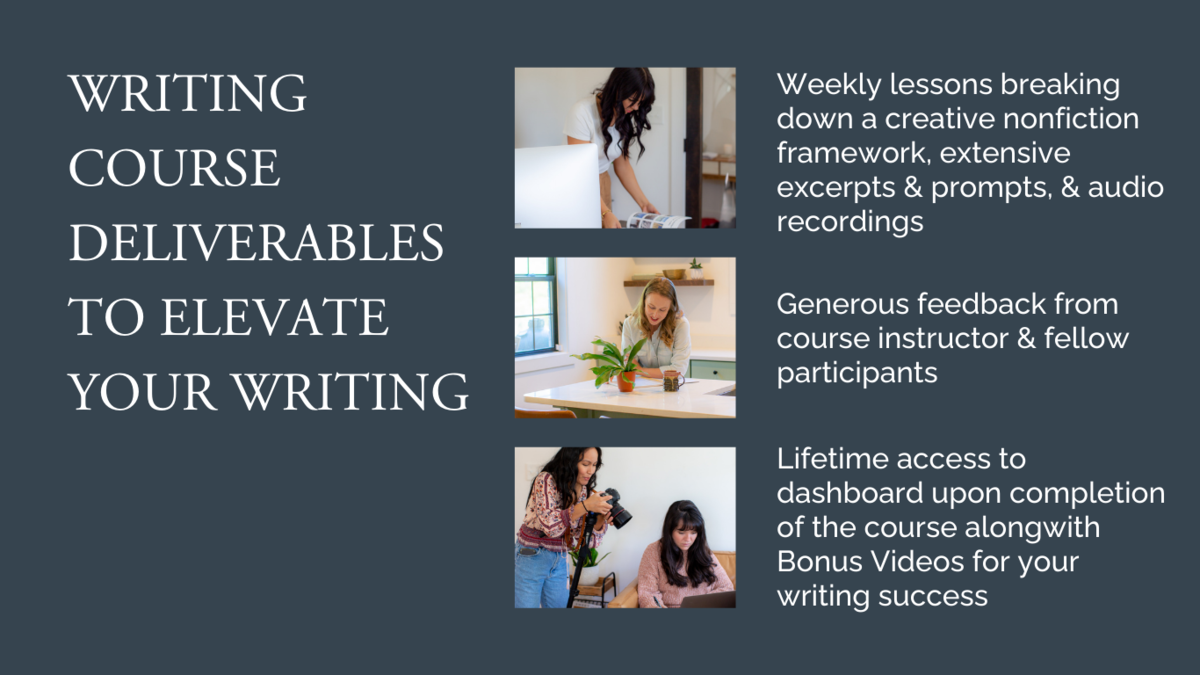 Have You Ever Called Yourself a Writer?
Do You Believe You Have a Story to Tell, Write, and Share?
We believe that everyone is a storyteller and has a story worthy of sharing.

"Most of the time, your life is not happening on a page; it's happening in dialogue with those around you." - Lindsay Swoboda during Zoom Study Hall with Course Participants.

Like many of us, you may be sitting around the dinner table re-telling your favorite memories of the day, chatting with friends over coffee, or face-timing a loved one. Or maybe you share snippets of your life on social media?

Those moments of dialogue are storytelling, and this is the foundation, the very inspiration for writing.

So, you do not need to call yourself a writer to take the course; you only need to show up to the page honestly.

This course is for those that are:
Brand new to writing! This course will teach you an easy-to-follow framework for a creative nonfiction essay. You'll discover pieces of your own story and walk away with your very first completed draft.
Experienced writers, you've been writing your whole life! That's great and your writing skills are going to help you ease into each lesson. Still, there is a difference between writing on your own and writing with an intentional group of your fellow creatives. Each week, you'll receive and give feedback to your essays. Therefore your writing skills will continue to sharpen and refine.
Busy, not sure if you have the capacity! We deeply empathize here. Writing amid military life comes with its own set of challenges. We've intentionally broken down the course to be manageable & digestible each week. The lessons will come with audio for when you're on the go and everything will be delivered over email so you can access the course from anywhere.
Dreaming big, you're ready to submit your story for publication! Yes, we're cheering you on and cannot wait to write alongside you. Throughout the course, you'll have the accountability and time to weave out your personal narrative, gain clarity on the theme of your story, and discover connection points to truly immerse and impact your reader.
Not a military/service family member, yet still want to learn how to compose your story? Join us! Here at Legacy, we've always believed that the lives of service member families are enriched when they're able to connect with their civilian counterparts. Deep connection and understanding can unfold when we bridge the divide. We welcome you to join the course.
THE FIRST STEP IS SIGNING UP FOR OUR WAITLIST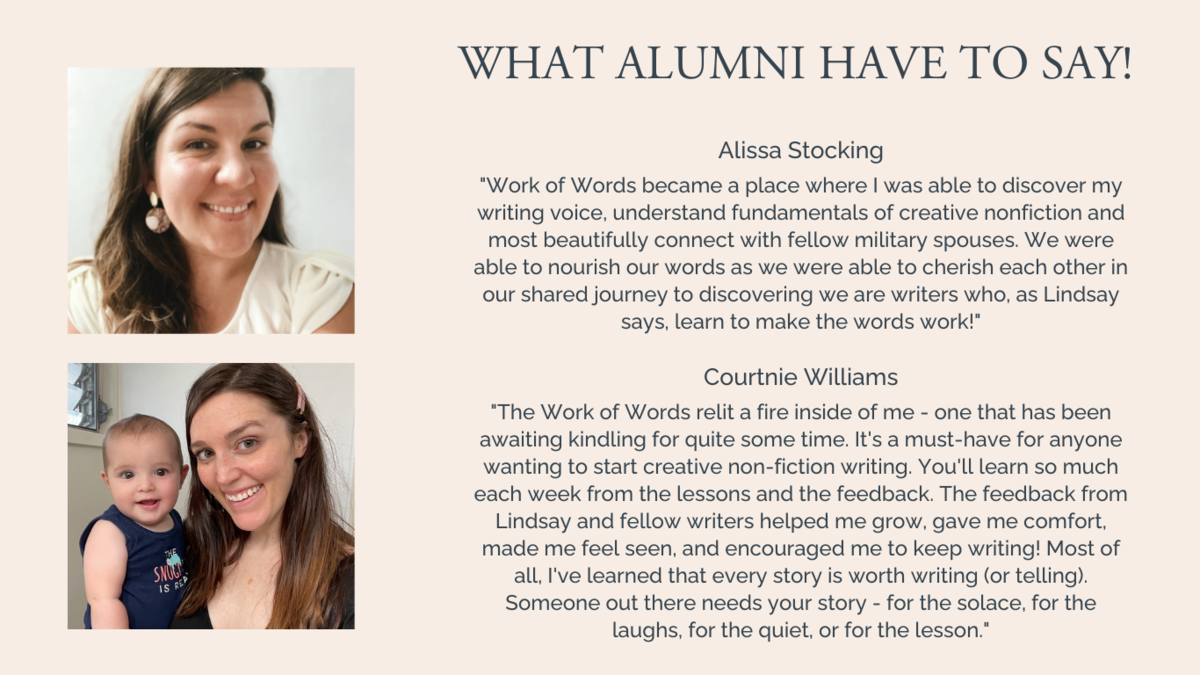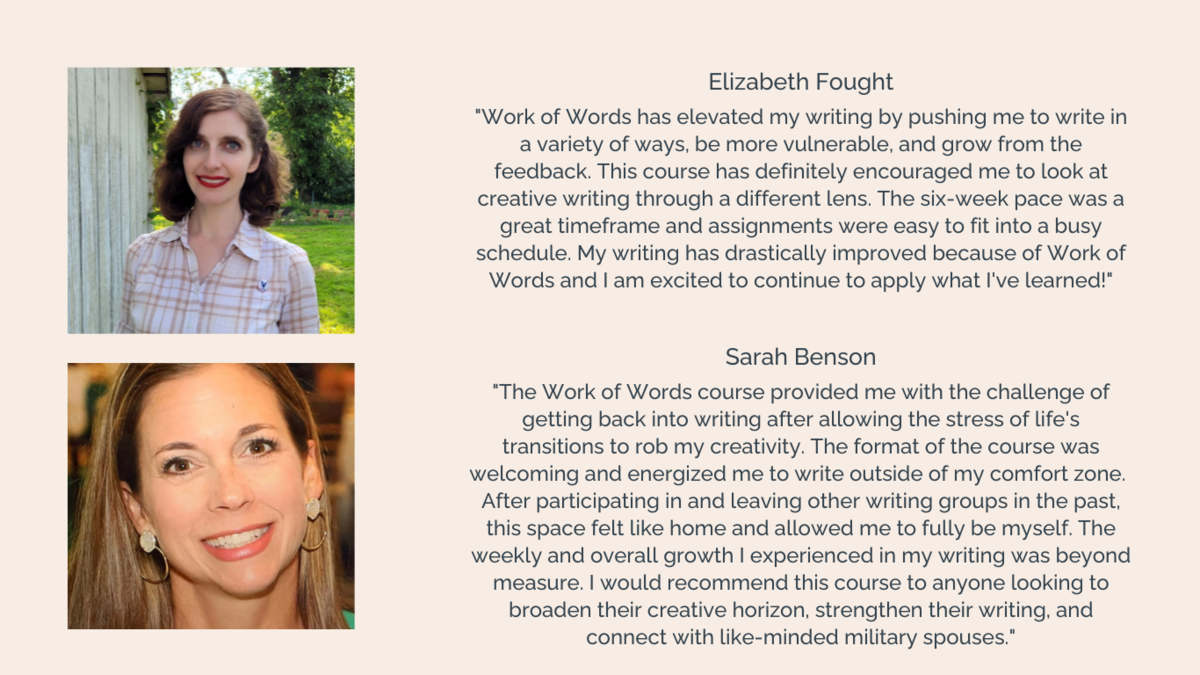 Your Writing Course
Your Permission to Pause, to Process, to Pursue!